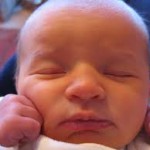 Do you remember when your children were born? Of course you. Each miracle, as they entered your life, brings a unique personality, a perfect story to be shared. But then they grow a little older, a little more independent, a little more challenging and perhaps we forget that precious moment when all was new and they lay helpless in our arms.
I've talked about Belle Pirri  here before, she is a wonderful purposeful woman, filled with gratitude and a desire to help others manifest their best life through grateful living.  On Feb 12 she gave birth to her first child, a perfect little girl, Ava Belle.  I was touched by the love in her words this morning and wanted to share them with you. Take a moment out of your, sometimes harried, always moving life and share with Belle, the love she is feeling for her new born daughter:
Lessons I've learned from Ava in just over one week:

1. Absolutely nothing is as important as this moment. Not the story of the dirty dishes, not the story of the emails that need answered, not the story of anything that is not this beautiful girl in my arms.

2. Asking for help empowers others. During labor, my husband was happiest when he could do something, help me, hold my hand or get ice. Friends and family glow when they can do something to help. Asking for help says, "I trust you." Communicating our needs to each other isn't weakness, it's empowering strength.

3. Everyone we come in contact with is an angel. I was just beginning to really understand this before Ava came, but now I know it. Random strangers smiling at her, nurses who go out of their way to help and educate, family and friends who send energy of pure love. Everyone around you is an exquisite, glowing human being. Look closely and you can see it.

4. Sleep is not as important as we think it is. I thought I'd be in for a hellish existence of non-sleep, but I've found it doesn't matter how little I have, or how long it's been since I last slept- Ava is still beautiful and perfect, and I can choose, at any moment (even the sleepiest ones) how I'm going to talk, act, react, and how much love I'll put into the world. As a result, I feel better- full of love, no matter what's going on around me.
Now, go grab your 25 year old, bearded son, or your teenage daughter or your trying "terrible two" year old and give them a great big hug. This is why we do all that we do. This is why we work from morning to late at night, so that we can share love and instill in our children or our children's children or the children of our friends and family just how important they are and how much we can learn from each other.
Congratulations to Belle, her husband and her precious baby girl. And congratulations to all of you for the birth of your children. The role of parent is a wonderful, albeit challenging, gift. A role of a lifetime.