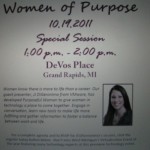 Women know there is more to life than a career. 
This coming month I will be presenting the message of Purposeful Women at Data Strategy Technology Exchange on October 19, 2011 in Grand Rapids, Michigan.
Purposeful women in technology, and in all industries, need a place to come together. Engage in conversation, learn new tools to make life more fulfilling and gather information to foster a balance between work and life. 
This day long conference offers sessions centered on Business Continuity, End User Computing, Cloud Computing, Healthcare IT, and custom design. At a 1pm, we will turn the attention to women in technology and how they can live their lives on purpose.
I hope to see you there. To register for the conference, visit the online registration site.