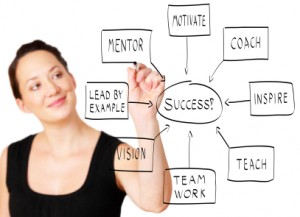 Aside from historical bias toward women in business, today we face the same challenges due to the global economy. There seems to be an ever-increasing glut of government regulations. Additional taxes levied in the desperate attempt by state and local governments to increase revenues continues unabated. It may be helpful to view business challenges in the context of what can be controlled and what can be directly affected. Thinking out of the box is always helpful and certainly recommended. Let's get a quick look at the progress made by women in business.
As of October of 2011, women owned almost 8 million of the estimated 27 million small businesses in the United States. That figure represents just over a 20% increase in the past ten years. Real progress and more opportunities have been made for women in business. Keep in mind that is just for small businesses, and we cannot overlook other areas in management. (The above statistics were reported by Forbes, citing research by Guardian Life Small Business Research Institute)
There are diverse reasons why women choose to start a business. But once you begin looking closer, you'll see some commonality with men. Many reasons are universal and reflect the growing dissatisfaction with life in a cubicle, both real and metaphorical. But once you make the bold decision to start your business and you do it, reality can hit you right between the eyes.
Small business owners quickly discover how much needs to be done every day. If you don't have others to help you, then you need to wear many hats. You're the business owner which brings enough responsibility by itself. As the owner, you'll need to engage in all the official communications – business emails and calls from vendors, etc. If you need supplies, you have to order them or research new additions. You may have to be the sales person, take care of the books, do all the marketing and advertising, manage your business website, and more. Perhaps your budget doesn't allow for hiring janitorial staff or services. That only leaves one person – you.
Expanding your business often requires additional capital. Any business, regardless of gender ownership, can really struggle in this area. But women in business have always had to go the extra mile to get needed funding. Even the US Small Business Administration has recognized the disparity between genders with business loans. Women have always lagged behind male-owned businesses with capital loans. However, to the SBAs credit, in 2010 they announced an increase from roughly 3.5% to 5% to bridge the gap in federal contracts awarded. But that was for federal contracts which is only one part of the overall business environment.
One other important development includes the Small Business Jobs Act. This legislation contains provisions directed toward women entreprenuers and is designed to make business loans easier to obtain. The SBJA also targets those businesses who wish to seek federal contracts in appropriate areas.
Progress on complex issues proceeds slowly when the business climate is tough and there are many factors involved. The important point is to stay informed, know what's happening on all fronts the best you can, and take positive action to empower your self.