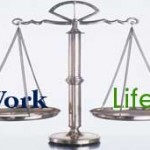 The start of a new year is a great time to look briefly in the rear view mirror and assess the year gone by as you prepare for how you will spend your future. There are a ton of books, programs and articles about work life balance and often it seems to elude us. We tend to be more fire professionals – putting out fires rather than proactively planning our days, our weeks, the year.
CNN has published a Work Life Calculator.  What does your life look like today? Are you in balance?
Are you on the path to having it all?
Having it All seems like an illusion precisely because it keeps eluding us. The truth is, we
can't
do everything required to have it All. The equation is somehow faulty.
I don't think that the "Plan" handed down to us is about achieving balance, whether inner or outer. That's a problem. And it isn't about living a life of energy and enthusiasm, a life that inspires us and others. That's a problem, too.
The best part of the Plan we operate under today is that we have the power to modify it, to create a more effective life—a life with impact. We have the power to redefine the Plan so that our sons and daughters, nieces and nephews, young friends and neighbors will one day thank us for bringing more energy, focus, and inspiration into the lifetimes we've been given.
So as this new year approaches, what modifications will you make to achieve a better balance between the different segments of your life? In what way will you modify the Plan so you spend more time living the life you would have rather than the life other's dictate to you?
I invite you to check out my book The Woman's GPS: When the Plan to Have it All Has Led You Astray. You'll find stories of other women just like us who struggle with the challenges you do. You'll find exercises that will help in the evaluation of your Plan and your desire to live a more balanced life.