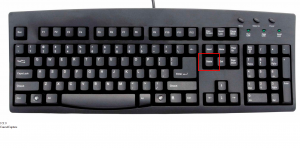 Steve Martin, comedian, writer, actor, banjo expert, once penned a series of comedic snippets called Pure Drivel. One chapter is called "Writing is Easy." It is a great tongue-in- cheek look at fiction writers but in one section he talks about the delete key…"The delete key is your friend, use it."
Taking it out of the context of being a writer and putting into my life, I have to agree.
Delete negative self talk
Delete the "should" tasks that keep you from your true goal
Delete the "negative" people from your daily life – if possible
Delete the idea of "can't"
Delete wordy explanations when a simple "No thank you" will do
If you looked at your life with the idea of having a magic Delete key (think of the Staples EASY button) what would you delete from your day, your task list, your life?