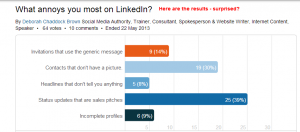 Social media is a fact. It isn't a passing phase or a toy used by teens but an effective networking tool for those that understand the power and use it correctly. I have shared some of the thoughts of how LinkedIn and other social media networks can help you connect, find a new job or build your personal brand but one of the things we haven't discussed is the damage social media can cause.
We all know the importance of separating our personal from business content and making sure that we remember – social media comments are forever and there are no secrets. But perhaps we aren't aware of some of the simple things we can do that can have a negative cost effect on our personal brand.
A poll recently conducted on LinkedIn asked what habits can be most annoying among the LinkedIn community and the answer was a resounding: "We don't like sales messages."
Here are a few tips from a recently published e-book from Marketo entitled 50 Social Insights from Marketers.
Try not to post too much company centric news–you will almost always be bragging too much. We learned to post more relevant industry and analyst news to balance out our promotions.
Lauren Twele @Symplified Online Marketing Manager, Symplified

When someone posts on a social channel, you need to try and immediately respond. Don't fall victim to poor "listening." David George @SystemSensor Director, Marketing Communications, Honeywell

Have balance between push and pull tactics, make sure you have enough cross engagement, and pay attention to targeted messaging. Czarina Carden @HomeFinder1 Senior Marketing Manager, Homefinder.com
The bottom line: make sure your status updates follow the 80/20 rule – 80% sharing information about others, commenting or discussing topics with others or asking questions of your audience and only 20% talking about the products and services your company provides.
If your updates are focused on you and your company, the cost of that self-centered sharing can be the loss of a potential valuable audience. Be informative but also be responsive, complimentary and willing to turn the spotlight on others first. The end result will be a reputation for being a resource – an enviable position indeed.