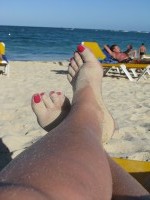 What if we could wave a magic wand and give you two whole days all by yourself. What would you do? Where would you go? How would you use the time?
A friend of mine recently had the opportunity to go to Miami FL and spend a couple of days totally by herself. No agenda, no kids or spouse, no work, nothing to distract her and no obligations. Can you even begin to imagine what that would be like?
Here is what she did:
Slept in
Finished reading a book
Read magazines
 Ate amazing food
Got a hot stone massage
Worked out
Took a walk on the beach
Drank during the day
Missed my kids
Realized we need to do a "girl's trip" once a year
At the end of her time she realized that having a moment to herself, a chance to jump off the merry-go-round of life, was better than the most expensive gift. It gave her time to be selfish, to rejuvenate, to appreciate the people and things in her life.  Her final comment to me was that "although this may be a difficult phase in our life, it will pass. Our kids will grow and leave home to start their lives, our careers will escalate and then reach the goals we desire, allowing us to face the next phase of our lives – that time when things slow down and we can enjoy life a little more.
But don't wait to enjoy today. If the tragedy in Sandy Hook has taught us anything, it is to love hard, live now and don't put off until tomorrow the things that are most important in our life because tomorrow may not come.
Okay, so two whole days completely to yourself may not be possible, especially in the heat of the holidays, but how about two hours? Can you get up a little earlier and have 30 minutes of quiet to start your day? Can you sneak away in the afternoon for a long walk or a trip to the coffee shop for a beverage and a good book?
What would you do if you had a little time all to yourself?