I love your video series for Career Women, it is fantastic to see someone encouraging business women to succeed. ~ Shirley
JJ DiGeronimo's YouTube channel showcases career advice from her award-winning books and other professional women to advance all business women. These videos highlight milestones, advice, research and best practices. Subscribe today to receive videos as they are posted!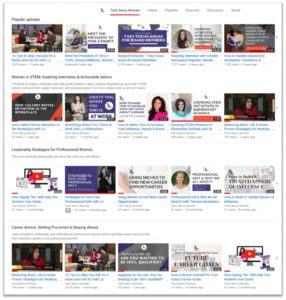 We hope you will share these videos with women in the workplace, women striving for leadership and young women in high schools and colleges to encourage them to pursue degrees and careers in STEM. This is a great time to celebrate working women while leveraging their stories as a tool to encourage women worldwide!
Click here to watch JJ's video interviews via our YouTube Channel. We post new videos often so be sure to subscribe.
Interviews of Women in Business: