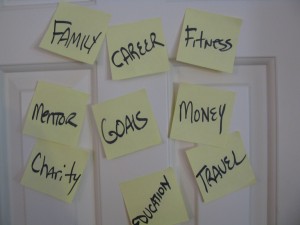 Another year is coming to a close. We can either face it with disappointment over what we didn't do, or celebrate all that we did experience, accomplish and enjoy.
I vote for CELEBRATE.
Of course going hand-in-hand with celebrating 2010 comes the preparation for 2011. No – I'm not talking about resolutions. Resolutions are things we feel we must do or eliminate in our life that we have no commitment around and therefore we typically abandon by mid-January.
I'm talking about starting the year with a purpose.
What do we want our life to stand for in 2011?
Where do we want to focus our attention?
Learning something new?
Helping with a community organization?
Starting a project to help give back?
More quality time with our children?
Achieving specific success in our career?
If we can transport ourselves to December 31, 2011 and look back on the year – what does that year look like? What do we look like? What have we experienced?
Christine Kloser wrote a blog post with instructions for putting together a Sticky Note Business Plan. I love the concept and have used the process for setting many goals – it is visual – it is focused and it is easy to execute and use for follow up.  The process isn't just for business plans – you can use the exercise for freeing your mind of all of the great ideas, goals, nice to haves and fragments of genius.
Consider this process for creating your plan for 2011. What areas of your life will you focus on and what specific tasks, projects or opportunities of new learning will you tackle? Grab a stack of sticky notes, a pen and start writing!  Share your top three goals for 2011!