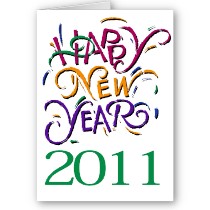 So did you make any resolutions for the new year? Ellen DeGeneres once did a bit about resolutions in which she challenged herself in a positive way. In part, she vowed to chew her food.  Take a watch for fun:
But seriously – whether you made resolutions or not – you have probably set a few goals for yourself and your career and your family. Am I right?  As an business women we often have certain goals that are similar:
Spend quality time with loved ones
Seek career advancement or challenge
Learn something new
Experience something new
How have these goals changed over the years? Have they? I was chatting with another working mom, business owner, who hosted the New Years Eve party at her home – six fourteen year old girls joyfully (i.e. LOUDLY) ringing in 2011. After the bubbly grape juice and noise makers, she gave each girl a pad of paper and a pen and asked them to write down three goals for 2011.
"Write down three things that you hope will happen or you want to experience in 2011 and then fold them up – put them in this jar and we'll store them in the deep freeze until next January."
My friend didn't really expect that they'd follow through, she just wanted a few minutes without girl giggles and holiday horns but surprisingly they took the exercise seriously. The next morning she was surprised to discover the jar filled with colorful papers in her freezer.  She couldn't resist taking a peek:
Make the tennis team
Eat chocolate
Learn to speak German
Ace my French final
Get into the chamber orchestra
Learn Japanese good enough to have a conversation with a Japanese person
Learn to sight read music
Get straight A's all four quarters
Have a boyfriend
Stop biting my nails
Learn sign language
Learn to drive a golf cart
Grow my earring business
Impressive how many of the goals involved learning something new and not just learning but excelling. Aside from the "eat chocolate" these goals could have been written by an professional woman of any age. Where were the silly "get cute skinny jeans" goals that you would expect from 14 year old girls? Not only that – look how many involved improvement of their minds rather than physical improvements or goals based on having someone else provide their happiness. (Okay – there is the one boyfriend goal but how many single career women have the same goal on their list this year?)
It was encouraging to see that this next generation of women look to be focusing on their own advancement and knowledge rather than the "plan" that we grew up preparing to achieve; married, 2.5 kids and house in the suburbs.
Was this a unique group of girls? I don't think so but do your own test. Ask your own school-age daughter/niece/neighbor the same question – what are their goals for this coming year.  How similar/different are they from your own goals this year?