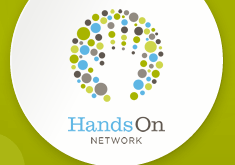 This coming week (April 21-27) is National Volunteer Week. A big round of applause to those of you that offer your time and talents to a volunteer organization.  The Hands On Network refers to this as a time of recognition:
National Volunteer Week is about inspiring, recognizing and encouraging people to seek out imaginative ways to engage in their communities. It's about demonstrating to the nation that by working together, we have the fortitude to meet our challenges and accomplish our goals.
One of the most recognized and respected volunteer organizations that works with girls and young women is the Girls Scouts. Founded in 1912, the Girl Scouts have been inspiring and mentoring young women, providing the opportunity to develop physically, mentally, and spiritually.
April 22 has been set aside as a day to recognize Girl Scout Leaders present and past; who have help shape the lives of hundreds of thousands of young girls world wide.
Let's take a moment to thank those around us (you may also want to look in the mirror!) and recognize the efforts they put forward on the behalf of others.
Thank you volunteers!!