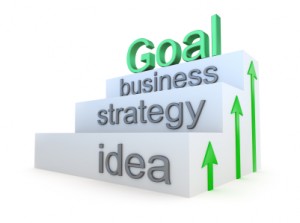 The other day I told you about Cassie Schumacher of Wheels 4 Change and her incredible goal of pedaling 3,000 miles across the country to raise awareness of returning veterans and their needs.
Her achievement got me to thinking more about those Big Hairy Audacious Goals or what we at Purposeful Woman call "A Purposeful Woman on a Mission" and what we can do together to recognize them and set about achieving them.
So in the last few days I have been looking for what others have been saying about achieving goals and I've selected some of my favorite pieces of advice to share with you.
5x5x5 – A Simple Way to  Achieve Big Hairy Audacious Goals
Hannah Braime wrote an article about how to identify and reach BHAGs through her 5x5x5 method. Her suggestion is this:
5 BHAGs – pick five goals

5 milestones involved in working towards each BHAG – identify the milestones

5 strategies for achieving the BHAG – create or determine the strategies necessary to be successful
Here are her tips:
A few tips and thoughts:

You are unlikely to achieve all your BHAGs, but that's OK. The point is to aim high and if you achieve three or four out of five, that's awesome.

I can already tell which of my BHAGs I'm likely to achieve, and which will be more challenging, and part of the fun is working out what I can do to get as close as possible.

I set 5 work-related BHAGs and 5 personal BHAGs for myself this year. There are definitely pros and cons to doing this, and I'm not sure how I feel about it yet. Sometimes it feels like way too much, but on the other hand it also helps me stay more conscious of my balance between work and play.

I track monthly because I'm a metrics fiend and love recording most aspects of my life.

The original idea is to set five milestones, so while I find it helpful to review my progress monthly, there's no 'right' way to do this.
I like the idea of identifying the goals and setting milestones along the way, however, since we are just getting started – I would suggest you pick one goal.
Brian Tracy's book on procrastination talks about picking the biggest, ugliest frog (task, obligation or goal) and tackling that first. So with that thought in mind, just start with one BHAG. 
Alyssa Gregory writes about selecting just one goal. She reminds us that the phrase BHAG referred to businesses changing the way they do business but her article brings the concept to an entrepreneurial level.
In her article she suggests that you test your goal by asking a few questions:
Is it long-term?

Is it something people will understand if you share it?

Will it require you to stretch yourself out of your comfort zone?

Is it measurable and life changing?

Does it create momentum?

Does it excite and stimulate you?
I like these questions because it really makes you stop and think. A BHAG isn't something that can be done in a day like the laundry or in a month like starting an exercise program. It is something that is bound to make a difference in your life and in others. So it does require deep thought and analysis.
Is there a BHAG that is starting to surface in your mind?
Lastly, I found this article by Stacey Barr entitled The Real Reason for BHAGs is Not to Achieve Them
You may have heard the quote "If you shoot for the moon and miss, you still land among the stars." Stacey reminds us that BHAGs are just that…BIG. As we work to achieve them, even if we don't cross the ultimate finish line, we've still stretched ourselves beyond the norm.
What really happens when we fail to achieve a big target is this: we in fact end up achieving far more than we would otherwise have achieved if we'd chosen a safe and achievable target. Safe and achievable targets don't stretch us, they don't ask us to become more than we currently are. They don't ask us to think smarter, or choose more wisely or act more deliberately. They don't ask us to question our approaches, to look beyond our current knowledge, to test our assumptions. The most that an achievable target can get you to do is to work harder. Is that really something to look forward to and feel proud of?

The beautiful treasure in pursuing big goals is who we need to become to achieve them. Why should we expect to get a profoundly better result by staying the same, by thinking and deciding and acting the same? We need to shift ourselves before we can shift our performance measures.
Okay – enough talk, or in your case, enough reading. Get out your pencil and paper, iPad, laptop, Smart Phone, back of the envelope and start writing.
To help you I have created a worksheet that will help capture the information necessary to begin your journey to successfully creating, implementing and achieving your BHAG! Good luck and keep us posted. Click here for the Purposeful Woman on a Mission Goal Worksheet.
Purposeful Women on a Mission: Big Hairy Audacious Goal Worksheet