New Book for Professional Women to Maneuver the Landscape
#7 on Amazon – New Business Book for Women
Many professional women aspire to advance their career. Yet many encounter a sea of obstacles because they don't have "the playbook" to navigate corporate cultures and industries.
With more than 20 years' experience in the tech industry, JJ DiGeronimo is no stranger to navigating the twists a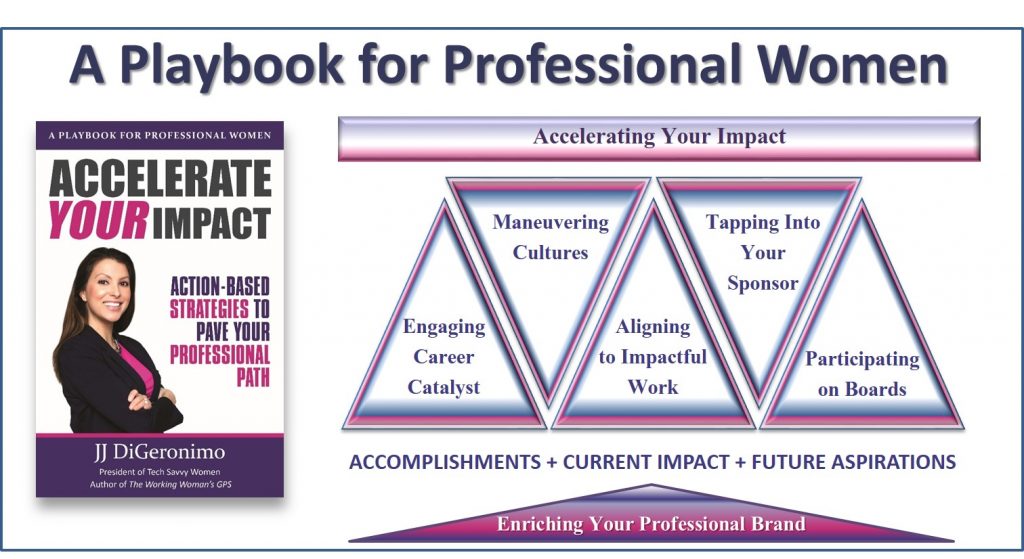 nd turns of moving from entry-level positions to leadership. She's learned firsthand that securing that next position, a board seat, or even starting a new initiative often requires women to enhance their relevance, establish new sponsors, and expand their network.
In Accelerate Your Impact: Action-based Strategies to Pave Your Professional Path, JJ offers a series of proven initiatives that high impact men and women leverage to accelerate their professional paths.
Through personal anecdotes, examples, and stories from those who have stumbled, fallen and succeeded, JJ shares this playbook for professional women to focus on specific actions to maximizes their talents and make their professional goals a reality.
What others are saying about Accelerate Your Impact
 "JJ's objective is to create A Playbook for Professional Women to make their goals a reality and she completely nails it. A must read for every professional woman AND for every man who manages, works for or with women. If an organization wants a complete how-to guide to enable women to thrive this is the book." —Jeffery Tobias Halter, President YWomen; Author of Why Women:The Leadership Imperative to Advancing Women and Engaging Men
 "JJ shares wisdom of overcoming standard patterns of behavior in order to unleash our potential to do phenomenal things in the world. Her motivating exploration into the empowerment of women—the empowerment of ourselves—is not only a great refresher for those in the trenches of the business world, but also a must read for young women entering the workforce. Pick this up for yourselves, your daughters and recent graduates—it won't disappoint." —Mel McGee, CEO, We Can Code IT 
"The passion JJ has for pushing women to thrive in the workplace shines through in every word. So many women cannot articulate why they are 'stuck' in their career and JJ has helped with her simple focus on how our diversity and gender makes us great! Whether personal or career everyone needs to 'stretch themselves' to manifest what one desires!" —Jennifer Kirkpatrick, Dir, US Enterprise Flexible Consumption Models, Cisco Systems Inc. 
"JJ hit the nail on the head that personal change is daunting. I was very impressed with how she identified challenges and assimilated tactics into a simplistic game plan. Stretching the risk muscle is something that we all need to put into practice!" —Dana Jacks, President, Data Strategy
 "It's no secret that we have too few women leaders in the boardroom and C-suite. Using the valuable strategies and insights JJ shares, more of us can elevate our leadership skills and step to the next level of success. If you aspire to become a high-value leader, this book will help you forge your path." —Amy Franko, Founder and President, Impact Instruction Group
 "Accelerate Your Impact is a brilliant road map for anyone seeking real-world examples and inspiration as we contemplate how to leave a meaningful footprint from our life's work. JJ, yet again, weaves her personal journey with best practices and proven outcomes. Her honest and straightforward style makes this the go-to book for today's professional." —Tim Mueller, CEO, Global IT M&A Forum