"A penny for your thoughts…"
Penny Stones are an elegant and fun collection of ice breakers that start conversations, strengthen relationships and create lasting memories.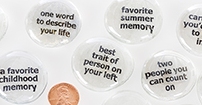 How Customer Use Penny Stones: I bought some for a house warming gift for friends of ours. We shared so many memories and stories. It was a wonderful bonding time for adults and children. – Amy H, Solon, OH
Penny Stones were created by Entrepreneur & Friend, Tammy Gentry!  Thank you Tammy for sharing these gifts with Purposeful Women to get the most out of their conversations!