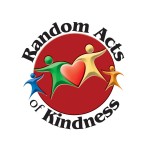 February 12-18 is Random Acts of Kindness Week. It is a week dedicated to finding ways to do something small and unexpected for those around us.
Have you ever paid the highway toll for the car behind you? Or bought the meal of the person in the drive through line behind you? There is a certain thrill of excitement, a little secret that only you know, that perks up your day. Not to mention is a great surprise for the person who benefits.
I was once buying a small piece of fabric at JoAnns. I had a 40% coupon and my total savings would have been around two bucks.  The woman having her fabric cut next to me was buying enough yardage to make new curtains and her total purchase was over $200.  She didn't have a coupon. I looked down at my coupon and without hesitating, I handed it to her. 
Change the world with kindness.
It cost me nothing.  But the unbelievable joy, not to mention monetary savings, it gave a woman I'd never met nor would never see again was immeasurable.
The little acts can mean so much.
Kelly Ripa, star of morning television's Live with Kelly had Howie Mandel as her guest a week ago.  It turned out that the night before, unbeknowst to them, they had plans to dine at the same restaurant.  Kelly with friends and Howie with an associate. Howie spotted Kelly and secretly asked his waiter to obtain Kelly's dinner check so he could pay for it. However, what Howie didn't know was that Kelly had spotted a third table with people she knew and was secretly picking up their dinner tab. When Howie got Kelly's bill it was a huge amount – $800!  They both had the same idea – a random act of kindness.  It made for a funny story the next day as well.
The tagline of Random Acts of Kindness is "Change the world with kindness."
What kindness can you show others during Random Acts of Kindness week and every week thereafter?