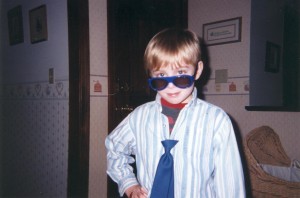 Here is the quote for November 13, 2010 from the "Women Who Do Too Much" daily calendar:
The Issue of Ordinary
We enjoy our children (and they enjoy us!) most when we just have an "ordinary" time together.

Often parents (especially Women Who Do Too Much) try to do something "special" with their children when what children want is an "Ordinary" day together.
I am reminded of a story one Purposeful Woman shared with me. Every summer she would take her son (who is now 19) on a week of camping. Just the two of them. She had more vacation than her husband and at the time, their son was an only child. One of those years they rented a cabin at a Yogi Bear camp ground in northern New Hampshire.
She carefully planned each day's activity. A trip to Santa's Village, a day at a water park, a boat ride on Lake Winnipeasaukee and many other wonderful activities they both thoroughly enjoyed. At the end of the vacation as they were driving home, she asked her son – then five years old – 'what was your favorite time this past week?'
She was sure it would be the day at Santa's Village with the roller coaster rides and lunch in Santa's workshop.  So what was his answer?
"Remember that day we sat at the picnic table and colored?"
"Yes," she replied.
"That."
"That, what?" she asked -quite confused.
"That was my favorite vacation moment.
Ahhhh.  Look at the times you spend with your children – those moments fit inbetween the office and cooking, errands and laundry. Rather than add one more big activity to the list, how about a game of Uno around the dining room table, 30 minutes making Pillsbury pull apart cookies, 15 minutes painting finger nails or just sitting around with crayons and a coloring book?
It is always nice to plan fun events but remember that the people who love you would often rather have quality time with the authentic you ( no frills needed). Simple and ordinary as that may sound; it is truly the best gift of all!