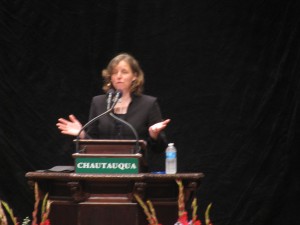 This week at the Chautauqua Institute, the theme of the week is the Next Great Generation – the generation of technology. My roving reporter, Deborah Chaddock Brown, was on hand Monday to hear Megan Smith speak about this new world of technology and its possibilities.
"My first impression of Megan is that she is lovely, professional and so very young. So young and yet the VP of Google X – the super secret society of all things cutting edge. A long time vacationer at Chautauqua, it was her first time to speak from the stage for a morning lecture and the house was packed, ready to hear what she had to say. I sat with my pencil posed and began listening while writing furiously until I realized that there was just too much – too many opportunities, too many stories, too many exciting things being shared that I needed to just sit and absorb, as I could never keep up with my old school methods of taking notes.
She talked about the opportunities technology brings to education and how the "network" is changing the way we bring learning to children around the world. She referenced the open source learning available – the most famous of which is Khan Academy and how Google was one of the original supporters that helps bring education to children in a focused, easy to use fashion – little bite sized pieces. I am familiar with Khan as my daughter's Geometry teacher assigned Khan Academy videos for night time learning; embracing the "flip the class" style of learning which proved very successful for my daughter.
Megan talked about the connectivity that technology affords us, of the limitlessness that technology affords those with creative ideas. She mentioned someone who came up with a really cool app (which I haven't been able to find yet – too new) that allows people to come together to fix eyesores in their community. Someone posts a picture of an eyesore – falling down shed, overgrown weeds, potholes – and then someone can offer to fix it and take credit. A company can volunteer to fix the problem, post the resolution and brand the fix with their company logo. An individual can offer up their services as a way to give back. Rather than waiting for the government to fix something – technology gives us the opportunity to share the problems and step up to take the lead.
Speaking of government, she likened technology – where we are today with its possibilities – as the Model T era – there is no way to truly see all that can be accomplished, communities that can be brought together, the learning that can be shared. Government, health, education, the arts – the possibilities are endless.
I was reminded my friend Candace Benson Camp Tech online and how she views technology as the tool to create endless possibilities and Megan said the same thing.
She talked about women in technology and our ongoing support and focus on STEAM – Science, Technology, Engineering, Arts and Math which is a strong focus for JJ DiGeronimo. JJ's focus on women in technology is so timely. 
Just when you think Facebook and Instagram have thought up all the ways we can use technology to be connected – something new comes along. Google Hangouts are being used to allow doctors to connect from Boston to Africa for 2nd opinions! And that is just one of so many examples Megan Smith shared in her talk.
But here is the thing that I enjoyed the most – Megan is a fan of relationships. So frequently we hear that technology is breaking relationships down, that collaboration is going by the wayside, that the next generation is being dumbed down because of social media and technology.
Not so. Megan called this time an opportunity for "creative collaboration." As the co-host of an online radio show Us Media Radio: Where Relationships and Technology Collide – I am a big fan of anything that brings us together.
I was so impressed by Megan and Google after listening to her talk and would encourage you to check out Google X to read up on some of the new opportunities and inventions that are in the works."