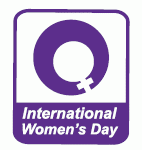 In just a little over a week, women around the world will be celebrating. Celebrated since the very early 1900s, International Women's Day is an opportunity to celebrate how far we've come. From the International Women's Day website they remind us of this important fact:
1908
Great unrest and critical debate was occurring amongst women. Women's oppression and inequality was spurring women to become more vocal and active in campaigning for change. Then in 1908, 15,000 women marched through New York City demanding shorter hours, better pay and voting rights.
 Today, well over one hundred years later, women's groups, women's communities and women in business are joining together to create events to celebrate how far we've come.
International Women's Day: Connecting Girls Inspiring Futures
On March 1st the Australian British Chamber is having an International Women's Executive Breakfast.
On March 5th in Belize there is an Open Women's Forum to discuss women's issues.
On March 3rd in London there is an All Women Workshop discussing the value of women today.
In all, as of today, there are almost 1100 events scheduled world wide to celebrate the impact women have had on our communities, economics, politics, business and family life.  Interested in learning about events that are near to your home? This link will take you to the global events calendar. All events are sorted by country and then city and then date.
Interested in scheduling an event at your workplace or in your church or community?  The International Women's Day website offers a celebration kit with instructions for planning your event.  Once you have the details, share it on the official IWD site, but also share it here with us.