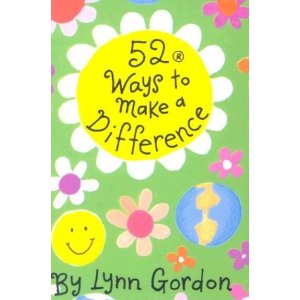 October 27, 2012 is Make a Difference Day, although why it should be limited to one day a year is beyond me.
There are so many ways that we can make a difference – even in the smallest way – that add up over time. It is more of an attitude than an action.
How can you make a difference?
Lynn Gordon has created a deck of cards (52 Ways to Make a Difference) that provide different, clever and simple ways that you and your family members can make a difference; in your community, in the environment and in your own home.
Here are just a few examples:
Humanizing the homeless. Do you pass by homeless on the street, at intersections or in your community. Rather than avoid eye contact, find out one of their names. The next time you see them, greet them using their name. It doesn't solve the bigger problem, but it does let them know you see them as a human being, someone worth acknowledging.  We don't know their back story and we can't make assumptions about what has led them to their current state, but we can offer a little human kindness with a warm greeting.
Share food. Next time you make your favorite family chili recipe or community-sized pan of lasgna, divide it amongst a few containers and share with a neighbor or someone who recently had surgery or has been suffering from a cold.  Think about who else you could feed when ever you turn on the stove.
Nurture your friendships. Our busy lives have required that we cut back on things we enjoy and one of those items that suffers our busy schedule is time with close friends. Facebook has allowed us more contact than perhaps we used to enjoy, but why not pick up the phone and suggest a cup of coffee or glass of wine after work. Not in the same town? Send them a funny card or handwritten letter. Let them know how important they are to you by sharing the love and appreciation.
The next generation. We all know the importance of being the change we want to see and teaching our children how to live through our examples; but if we took a closer look, are we really acting out our words? Let's delve even deeper; is there an opportunity that you can reach out to a high school or college student at church or in your community and offer to be there as a mentor? Youth are hungry for our guidance and attention.
This is also an important election year and you can make a difference with your vote. Make sure you are registered to vote – the deadline is October 7, 2012.
How will you make a difference today?