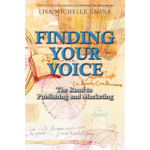 Lisa Umina is a business owner and entrepreneur. She wanted to give business professionals a voice; a way to take their knowledge and turn it into a product. Lisa started the company called Halo Publishing International and she and her team help new authors understand how to market their books and develop a brand new business.
Lisa recently published a book called "Finding Your Voice" a guide to help authors and wannabe authors, navigate the path towards publication. Do you have a book in you? Most of us do, but what holds us back is knowing how to start and where to go.  The Facebook page for Halo Publishing International has a slogan:
If there is a book in your head…it is time to get it in your hands. 
If you have a book you'd like to start and get published, I suggest you check out Lisa's new book Finding Your Voice which is available in paperback or e-book format for those that have a Nook reader. Check it out.