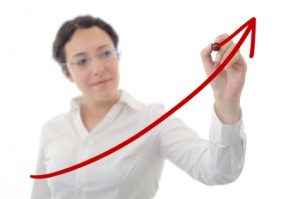 A new study involving over 2,300 companies indicates the presence of women executives on the directing boards increased overall business success indicators. The primary indicators involved performance of company stocks. This study was restricted to those businesses with a market cap in excess of $10 billion.
Mary Curtis, Director of Thematic Equity Research at Credit Suisse Research Institute, is the author of the report.
 "Companies with women on boards really outperformed when the downturn came through in 2008," Mary Curtis, director of thematic equity research at Credit Suisse in Johannesburg and an author of the report, said in a telephone interview. "Stocks of companies with women on boards tend to be a little more risk averse and have on average a little less debt, which seems to be one of the key reasons why they've outperformed so strongly in this particular period."
The study is significant and certainly credible because of the number of businesses tracked. In addition, the duration of tracking performance and other metrics was over a period of six years. The implicit suggestion is the combination of genders contributes to an overall balance of risk taking with investments.
You can read more in the Business Week article Stocks Perform Better When Women are on the Board.