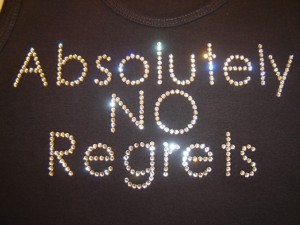 Does that phrase resonate with you? Are you living a life others have prescribed for you or a life of shoulds; following the direction or path of others before you? Or are you striking out and living a life that is true to yourself and what makes you happy?
Life is filled with compromise, but one place that doesn't allow room for compromise is at the end of one's life. A nurse, who cares for patients at the end of their life, recently shared the top Five Most Common Regrets People Have on Their Death Bed.
When questioned about any regrets they had or anything they would do differently, common themes surfaced again and again.

1. I wish I'd had the courage to live a life true to myself, not the life others expected of me.
This was the most common regret of all. When people realize that their life is almost over and look back clearly on it, it is easy to see how many dreams have gone unfulfilled. Most people had not honoured even a half of their dreams and had to die knowing that it was due to choices they had made, or not made.

It is very important to try and honour at least some of your dreams along the way. From the moment that you lose your health, it is too late. Health brings a freedom very few realise, until they no longer have it.
This topic is a little harsh and "in your face" for a Monday morning, but once again, we are at the start of another new year. If not now…when?
We can't live our life with regrets or kicking ourselves for what we didn't do. We just need to embrace each day as a gift and do all we can to life a life that is true to who we are. Click this link to read the complete article.