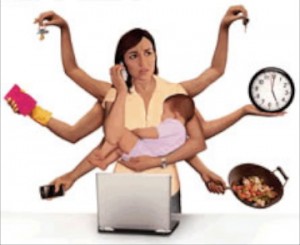 What does "having it all mean?" A Washington Post article of the same name starts by saying that women have been told they CAN'T have it all.
"The more successful the woman, the less likely it is she will find a husband or bear a child," argued economist Sylvia Ann Hewlett in 2002
For me, the question always comes back to "Who defined what having it all means?" I have been working on writing my book, Purposeful Woman, and in the process have had the opportunity to interview a variety of career women.  Here is what a couple of them had to say when asked about having it all:
Leah is a thirty-two-year-old wife and mother of two. She describes herself as a "sassy Korean-American director of communications, an Innovator, Fashionista, and Foodie." I asked her if what she felt pressured her to Have it All.
"The women's movement put more pressure on us," Leah told me. "Yes, we can be powerhouses in the workforce, but we also have to be a good wife, we have to look good all the time, we have to be sharp all the time."
These pressures are familiar to all women, whether they have a career or not.
Do we really want to have it all?
Shelley, 40, is a software expert in High Tech. She and I shared a ride to the airport last spring.  She asked me what I thought about being a working mom, and she wondered how I managed to keep it all together. I laughed, pulled out my tape recorder and told her about this book.  It only took a minute for her to accept my invitation to tell her story. I started the interview with a simple question: "Are you happy?"
"Some days I'm happier than on other days," Shelley said. "I wanted it all, I got it all. I got the family I wanted—I have two girls.  I got the property I wanted, the house I wanted, the husband I wanted.  I got a job pretty much exactly what I wanted. . . .So I have it all, but am I happy? No. I can't do it all.  It's too much. There's no way."
I've felt this way myself and every career woman I've talked to has had days, months, and years of feeling this way.  Having it All seems like an illusion precisely because it keeps eluding us. The truth is, we can't do everything required to Have it All.
URGENT NOTE: Okay, that being said – We CAN create a life that is filled with challenges and love and friendship and opportunities to give back. We CAN have a life that is everything we've ever wanted. It just means that having it all – as defined by "them" – probably isn't what we really want out of life.
What does having it all mean to you?
So whether you are on the journey to having it all or have already decided that it is just too much – how about we take a little break and "have some fun" because don't we deserve to have fun every once and awhile?
Image courtesy of Girls Just Wanna Have Funds and their Having it All post.