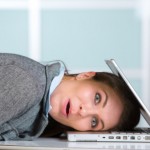 So often when I talk to other purposeful women on their journey to have it all, they tell me that when they look at the priorities in their life; they are not one of them.  They have their spouse or significant other, children, parents, boss, co-workers and neighbors that they have to help or worry about.  But the very person that needs to be attended to – themselves – isn't even on the list.
Sound familiar?
In my book The Working Woman's GPS: when the plan to have it all has led you astray, I interviewed a women, Paulette, about her plan to have it all. Paulette, sixty-two, lives in Massachusetts with George, her husband of forty years. She retired as vice-president of a huge telecommunications company, and she currently works as an entrepreneur.
I wanted to learn what Paulette did for herself during those years when she was a working mom. What had she done to care for herself so she could keep going? She was silent for a moment. For the first time in our conversation, she hesitated.
 "I'm not sure that fit into the mix," she finally said. "I could only work and have a family. . . During that time, I ended up gaining a lot of weight. I gave up a lot," Paulette said, "but I didn't give up my family or my profession. I gave up on myself."
That's another problem with the Plan to have it all: it requires us to give up part—or all—of ourselves in order to make other parts work. Eventually, giving up parts of ourselves becomes something we have to deal with.
When my inner voice protested about how hard I was trying to make everything work at home and at work and in my world, it didn't quit. It kept haunting me, whispering in my ear, shouting, leading me a little further in the journey. I had to take stock of where I was and explore how I got there. I had to ask myself if there were pieces of myself I lost along the way.
Have I lost pieces of myself along the way?
Let's work to refocus, re-energize, and become inspired again for ourselves, our families, and our world. Let's find ways to make the impact we were meant to make—not because of what we do—but because of who we are. Running so fast so much of the time, we sometimes, accidentally, run off course. The difficult questions that erupt in us are clues that help us reset our "purpose compass."
We need to find a way to put ourselves back on the list of priorities. Dr. Phil offers an article called the Four Step Priority Plan for Mothers.  One of those priorities is to make yourself a priority:
•Don't confuse the quality and quantity of your time. They simply aren't the same things. Focus on the impact that your time does have, and give yourself the same attention you'd give someone else you love.

•Don't do everything for your children. They are able to do some tasks on their own. Take the time to teach them how to do things for themselves.

•Learn the art of saying no, the ability to delegate and the capacity to accept help without feeling guilty.
What are some ways that you can make yourself a priority? You are too valuable to give up on. When you child is learning to walk and continually falls, do you give up on them? No, of course not. You continue to encourage and praise every accomplishment. And you deserve the same attention, encouragement and priority.
Visit the Purposeful Woman Facebook page and share some of the little ways you make yourself a priority.