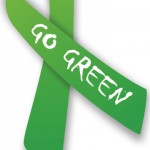 As mothers we have a great opportunity to start our children on the right path for their future. We help them understand the value of eating healthy, regular exercise and learning to save for the future. One more way we can educate our children is by teaching them how to be green and have a smaller carbon footprint both at home and at school.
The Big Green Purse lady, Diane MacEachem, offers three ways children can strive to be more green while at school. She offered these suggesting in an article for PBS Parents called Inspiring Kids to Go Green at School.  She suggested finding out what the school already does and also starting a green committee or group that includes teachers and children. Many schools have already started Green clubs that help with collecting litter and educating others about ways to be more green. 
She also suggested being aware of the supplies your children use:
Pens made from recycled plastic, pencils from recycled newspapers, crayons from non-toxic soy and beeswax, and binders, folders, notebooks and looseleaf paper from recycled cardboard and "post consumer waste."
Water bottles made from reusable stainless steel or BPA-free plastic.
Backpacks and lunch boxes free of lead and plasticizers. By the way, have your child make lunch with you the night before, packing sandwiches, crackers, fruit, and cookies in reusable containers.
Antiseptic wipes that contain alcohol rather than an antibacterial agent like triclosan, which has been linked to our growing resistance to antibiotics.
Let's not stop with our children, the Sierra Club offers 10 ways to be green at work. And Simple Mom offers 40 tips for being green at home.
Together we can help reduce our carbon footprints and encourage and educate the next generation as well so that we have a healthy planet for generations to come.