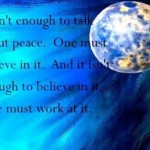 I recently had the pleasure of connecting with Eileen Trainor of the blog Endangered Spaces. On her blog she reminds us that November 4 is Blog Blast for Peace.
BlogBlast For Peace was founded by Mimi Lenox in October 2006 as Dona Nobis Pacem in the blogosphere. It was the first internet presence to ask bloggers to post on the same subject on the same day. The concept spread around the world and is now displayed in 57 countries

(and counting). Go

here

to see the thousands of peace globes created for the cause and the incredibly moving posts written by… a group of people known as "peace bloggers."
Purposeful Women don't just live for today, but reach out to bring young men and women along for the future of our world. What better way than to speak out for peace. We may only have one voice, but each voice joined in harmony with a single message of Peace can make a difference.
How do we bring peace to our own worlds? Do we teach our children how to disagree in harmony rather than by using back stabbing or revenge as a tactic? In the article "Nurturing Peaceful Children to Create a Caring World" the author has this to say about early childhood development:
Parents and other significant family members are the architects of much of children's early learning, especially in relation to their emotional and social growth (Goleman, 1995). It is through these continuing, intimate relationships (which may be with their biological parents, foster parents, an older sibling, or other significant persons who constitute a "family") that children acquire their initial schema on how the world works (Brazelton & Greenspan, 2000). When children have ongoing, loving relations with family members and other primary caregivers, they are likely to see the world as a good and nurturing place. As Swick (2001) notes, "The acquisition of caring and serving attributes is a constructivist process where children's involvement with parents and other significant adults is critical to their continued growth in becoming decent persons."
It starts early, as does every aspect of educating, training and nurturing our children. What methods do you use to foster a peaceful existence at home and at work?
Image courtesy of Blog Blast for Peace on Facebook.