Forbes has once again published their top 100 most powerful women list. At the top of the list is German Chancellor Angela Merkel. Angela is not only #1 most powerful woman for the second year in a row, she is also listed as the #4 most powerful person in the world.
What does it take to be considered a powerful woman? The list contains an eclectic selection of business leaders, political leaders, leading marketers, philanthropists, entertainers and entrepreneurs.
The average age is over 50 with a few celebrities (Beyonce and Lady Gaga) in the younger set. At a quick glance, the youngest business women were Marissa Mayer, CEO of Yahoo (#21) and (#100) at the tender age of 29, Sheikha Mayassa Al Thani, the Chair of the Qatar Museum Authority in Qatar.
What do they have in common? A vision – a passion – a drive to make a difference. As the saying goes "they all put their pants on one leg at a time" just like we do.
So here is a challenge for you.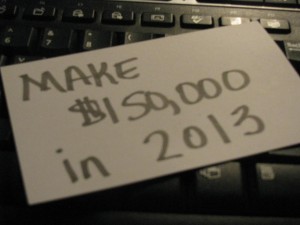 Find a 3×5 index card. Now answer this question:
"What could I do that would bring in $150,000 in salary in 2013?" (if you already make 6 figures – pick a number that is double your current salary and do the same exercise.)
Now ask yourself:  "What difference do I want to make in this world?"
Think big.  Not what difference you'll make in your department or community…but in the world.  Check out this list of women – think of the changes that they have brought about in the world by having a vision and setting out to make a difference.  Tie the two together and see if you find something that you can put on that index card. Something that will bring in financial benefit while also making a difference.
What would it take to have your name on that list next year or the year after?  What is standing in the way of making that happen?