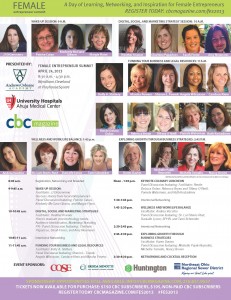 Next Wednesday, April 24, 2013, is the Female Entrepreneur Summit being held at the Wyndham Cleveland at Playhouse Square. I am every excited about this event; in part because I am facilitating the opening Wake Up Session with a panel of successful entrepreneurs: Patrice Catan, Kimberly McCune Gibson and Margie Flynn.
I am also excited about the networking opportunities this day long event will provide and the other speakers, panel discussions and the wonderful lunch led by Renee Deluca Dolan.
It's not too late to reserve a spot. To learn more about this powerful event or to reserve your seat, visit the CBC Magazine event page.