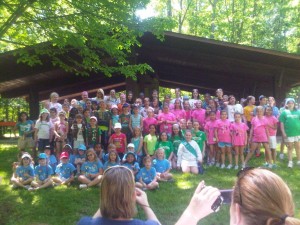 This year my five year old daughter joined a local Daisy Troop; the entry level for Girl Scouts.  Never having been a Girl Scout, I had no idea what an amazing and impactful organization resides in each of our communities.
I am so impressed with the entire organization.  I have really enjoyed participating in the activities as I watch women teach young girls lessons for life success.
One of the lessons my daughter had the opportunity to learn was the value of giving back to those in need. My daughter, along with 100 other girls between of the ages of five and twelve, purchased toiletries to donated to girls in shelters.
As a Daisy, girls in kindergarten and first grade earn pedals on their Daisy uniform. Each pedal stands for a different life lesson. I thought a quick view of their learning petals might refresh each of us on things we sometimes forget in the hustle of our lives.
Promise Center and Learning Petals
Lupe the Lupine (Light Blue), Honest and Fair
Sunny the Sunflower (Yellow), Friendly and Helpful
Zinni the Zinnia (Spring Green), Considerate and Caring
Tula the Tulip (Red), Courageous and Strong
Mari the Marigold (Orange), Responsible for What I Say and Do
Gloria the Morning Glory (Purple), Respect Myself and Others
Gerri the Geranium (Magenta), Respect Authority
Clover (Green), Use Resources Wisely
Rosie the Rose (Rose), Make the World a Better Place
Vi the Violet (Violet), Be a Sister to Every Girl Scout
Amazing Daisy (Daisy Blue), Promise Center
Make the world a better place – Respect myself and others – Be responsible for what I do
If only we all adhered to the Daisy lesson pedals.  Once a young girl finishes with Daisies she moves on toward being a Girl Scout in which she learns, memorizes, understands and lives the Girl Scout Promise and Girl Scout Law.
My daughter and I are still at the beginning of our Girl Scout journey but I am so impressed with the fellowship, the guidance, the lessons and the opportunities each girl has through this organization. As a mother, I'm finding that the opportunity to share in these experiences is a great conversation jumping off point to reinforce the life lessons being taught.
I'd love to hear about your Girl Scout experiences. Were you in Girl Scouts? How has it shaped you as an adult, what do you remember? Are you sharing the experiences with your daughter, niece, neighbor? What has that been like?
This year Girl Scouts is celebrating 100 years of encouraging, supporting, and teaching young girls around the world. Click to see a decade by decade history of Girls Scouts. Throughout the summer there will be many opportunities to celebrate the 100 year anniversary. Visit their website Girl Scouts.org for more information and events in your area.