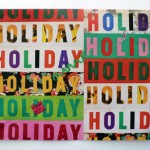 It is the first week of November and stores and malls already are filled with holiday decorations and gift ideas. Magazine covers advertise home cooked spreads, handmade gifts, and holiday decorating ideas. Can you feel your blood pressure already rising?
If you are like me, each year you approach this time and say "This year is going to be different. This year the focus will be on the spirit of the season and not the commercialism."
So what can we do this year that will make a difference for us and for our families?
Let's start by looking at Thanksgiving. Danyelle of the Cubicle Chick shares seven tips for having a stress-free Thanksgiving. She reminds us that the really important part of any holiday is the opportunity to share time with family. It isn't about having handmade name cards and a seven course meal. She suggests having other people help. Sounds great. Rather than cooking every dish, consider offering the turkey and ask everyone else to contribute their favorite side dish or dessert. Kids can get in the game with planning, shopping and cooking.
Here are Danyelle's first two suggestions:

1. When planning your Thanksgiving feast, concentrate on quality and not quantity. Everything doesn't have to be perfect, and people would appreciate a small festive gathering over a humongous feast anytime. Why stress yourself out preparing the perfect Thanksgiving meal when you can serve a small group and manage to enjoy yourself while doing so? The wonderful decor, place settings, and smorgasbord of food is indeed great for all of your guests, but if their hostess is tired and stressed out, it will be hard for them to have fun. Relax, downsize, and let the good times roll.

2. It's a good thing when we are able to invite everyone in our Rolodex to our gatherings, but the amount of time and money that would have to go into such an affair is taking away from the fun of the season. Invite close relatives to your Thanksgiving get together and keep it a close and small gathering of loved ones.
Jen Tilley of Mom it Forward offers great planning suggestions for the Thanksgiving meal. Plan ahead and create a schedule are her great suggestions! Jen reminds us of the meaning of Thanksgiving:
The theme of the day is enjoying time with family and friends and to express thankfulness and gratitude.
And that is the key. To focus on the thanksgiving and gratitude you have in your life. If we let it, holiday stress can make us irritable, tired, and even sick. Whereas focusing on what we are thankful for and living a life of gratitude can actually make us feel better physically. The Knowledge Hound reminds us about giving thanks:
Don't focus on what you don't have. Focus on what you do have. For example: "I'm so fortunate to have a warm place to sleep in the winter." "I'm so fortunate to live in a safe neighborhood where I can take walks." "I'm so fortunate to be able to see the beauty around me."
There are still a few weeks left until we gather around the table and give thanks. What will you do differently this year? What suggestions do you have for your fellow Purposeful Women on how to enjoy Thanksgiving without getting stressed out?