Recently,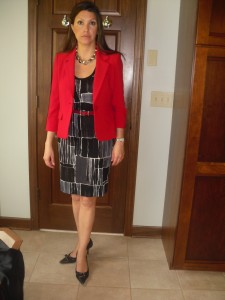 I had the pleasure of being a guest on Traci McBride's show Indelible Impression.  Traci is someone that I admire and have worked with and has actually been in my closet three times helping me create my signature style.
"What you wear can impact your energy," Traci has said. "You need to invest in yourself."
Traci reminds us that our children are watching us; seeing how we approach our life and our style and learning to emmulate our example.  However, most women say they want better for their children than they allow for themselves.  Traci challenges us all that "if we want better for our children, we need to do better for ourselves."
What role do you dress for?
Face your closet honestly and give yourself permission to get rid of the clothes that don't make you feel good. Keep the clothes that help you look like the role you want.
Michelle Obama, the First Lady, gives us a perfect example of how to dress for the role she has in life. Her style is classic, feminine, professional and also shows us just how hard she works to stay fit and keep those famously glorious arms!  Check out this article on the three looks Michelle wore earlier this week when she was a guest on Good Morning America, The View and The Daily Show promoting her new book American Grown.
Here are a few more looks Traci helped me put together using one classic business dress. Keep in mind, as you are cleaning out your closet, Dress for Success is a great place to donate your gently used business clothing to help another woman dress for her perfect role.