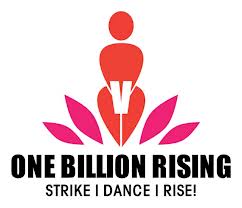 Are you aware that women around the globe are rising to break the chain of domestic violence. One in three women will be raped or beaten in her lifetime. Let 's stop for a moment and absorb that incredible fact.
One in three women will be beaten or raped in their lifetime.
We need to stop the cycle of abuse, stand up for ourselves, our daughters, our friends and stand up in support of women around the world who are experiencing this heart break.
One Billion Rising is an organization created to build awareness and support for women in need. As part of the movement, they are asking women to rise up this Thursday and dance.
Following are two videos – one with dance instructions from famed choreographer Debbie Allen with dance moves for the song "Break the Chain" and the second video includes instructions for the same song with dance moves for those who are mobility impaired. I just did the dance video sitting here at my desk and it is fun, good arm exercise and just joyful. So take a little time and watch one of these videos – but don't be passive. Get up and dance!