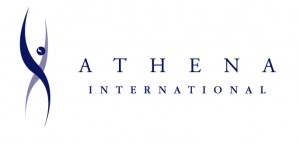 This evening marked a special occasion – the first Stark County/Canton, OH ATHENA International Leadership Awards ceremony. Nine incredible women finalists were recognized for their accomplishments in work, their charitable efforts and their mentoring and encouragement of girls and women.
It was a spectacular night. One hundred and seventy-six men and women gathered to recognize and celebrate these incredible women and hear their stories.
ATHENA International began in 1982 and since then 6,000 exemplary leaders in over 500 communities in nine countries have received the prestigious ATHENA award. The award was inspired by the goddess of Greek mythology known for her strength, courage, wisdom and enlightenment.  Doesn't that sound like the qualities of a purposeful woman?
Following are the names of the nine finalists for Canton, Ohio/Stark County:
Sheila Markley Black, Day Ketterer Ltd.
Cheryle L. Casar, The Louisville Meal Center
Janet Weir Creighton, Stark County Commissioner
Trina Cutter, Western Reserve Public Media
Michele D. Evans
Hon. Sheila G. Farmer, Judge, Ohio Fifth District Court of Appeals
Kari Groh, The Timken Company
Shannon English Hexamer,  Shannon English Marketing
Renee Powell, Clearview Golf Club
After a lovely dinner and a presentation by Delores Pressley where each finalist's story was told, the two award recipients were named and I'd like to share a little of their stories.
Janet Weir Creighton is the Stark County Commissioner, often referred to as the "Energizer Bunny." For over 40 years Janet has been mentoring and encouraging women. Her journey started in the school system where she worked with young girls, helping to build their self esteem through physical education, cheer-leading, track and other physical activities.
 In her career she became the first woman to hold the position of Stark County Auditor and then was voted the first female mayor of Canton, Ohio. She had the opportunity to work in Washington DC with President George W. Bush as the Director of Intergovernmental Affairs and Deputy Assistant to the President. When he left office she came home and became a Stark County Commissioner.
While being recognized this evening she recognized and applauded the other finalists and the women in the audience who were "difference makers."  I love that phrase.  It is more than an effort to make a difference but rather a calling, a title, a commission to be a Difference Maker. 
Renee Powell was the other woman awarded the ATHENA Leadership award and her resume is extensive. Her father built and owns the first golf course in the United States built and designed by an African American: Clearview Golf Course. She began the game at a young age and toured for 13 years with the Ladies Professional Golf Association (LPGA).  She started the LPGA Grils Golf club and she founded the Renee Powell Youth Gold Camp Cadre where inner city junior high students come to learn how to play golf.  Just recently she's launched a similar program for women veterans called Clearview HOPE.
Upon receiving her award this evening she said that her parents had taught her something that she lives by today:
"No matter what, leave this world better than how you found it." Renee is definitely a living example of that philosophy.
I am in awe and so inspired by the stories of these women tonight. The ways they find to make a difference (be Difference Makers) in the lives of girls and women in their community and around the world is so impressive. 
Dr. Merle D. Griff, Ph.D
, founder of
SarahCare
, was one of the co-leaders (along with
Paula Mastroianni
, owner of
Expressions Jewelry
) of this first annual event and she took us through a little exercise at the beginning of the evening.  She asked us three questions:
"Name the last three Noble Prize winners."
"Name the last four Oscar Best Actors and Best Actress winners"
 No one could come up with any of the names.
And then she said, "Name three women who have been influential in your lives; have encouraged, motivated, mentored, and supported you in your personal and/or professional lives.  Those names come much quicker, don't they?"
It is true. Those that have helped us and in turn, those we help are far more important and easier to remember. It was a wonderful event, an event of great celebration.
"Carry as you climb."
That says it all.  Who can you carry along your journey this week, this month, this year? Who would mention your name when asked for a name of someone who'd been influential in their lives?
Congratulations to the finalists and award recipients of the first ever ATHENA International in Canton, Ohio.  Thank you for your efforts and your inspiration!