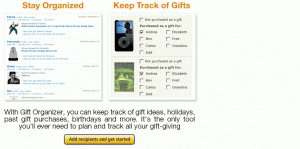 I love Amazon and I love giving Amazon gift cards for birthdays and to recognize individual efforts that have gone above and beyond. And now I love the Gift Organizer.
I was reading an article by Rae Hoffman-Dolan called Top 9 Online Organizational Tools and she mentioned the Amazon Gift Organizer.
The Amazon Gift Organizer allows you to add people by name and birthday so that you can remember their special day. You can also set up individuals to recognize an anniversary or just a special occasion. By editing each name you can select their areas of interest so that Amazon's endless library of gift ideas can be sorted to offer a few targeted ideas.
The organizer keeps track of the gifts you've purchased in the past while giving ideas for the future. Of course, a gift card for Amazon is always a welcome gift.
I'm not an affiliate of the gift organizer nor do I receive compensation for mentioning it, I just found this tool and thought I would share.
What tools have you discovered that help to organize your life better? Please share them on our Facebook page.